Lyceum Gateway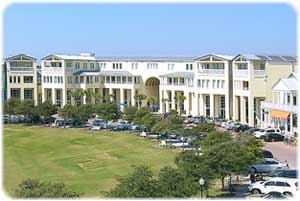 A combined residential and retail building, the Lyceum Gateway adds completion to the town square that embodies the beach retreat atmosphere and cozy, community spirit of Seaside. The Lyceum Gateway, built in 2007, contains three stories: The first story houses 10,000 square feet of retail space, and the two top stories accommodate eight elegant, spacious condominium units. Two units are penthouses.
The condominiums range from 1,685 to 2,861 square feet with floor plans of two bedrooms and two bathrooms to four bedrooms and four bathrooms available.? Dan Solomon, San Francisco's illustrious architect, aimed for high-end luxury when he designed the building.? Based upon the lush design requirements, high-quality contractors Brasfield and Gorrie built the complex with poured-in-place concrete and incorporated geothermal heating and cooling with a SEER-30 rating and no exterior AC condenser.? Luxury continues in the gourmet kitchen featuring granite countertops, superbly crafted mahogany cabinets and fixtures and Viking stainless appliances, including a sub-zero refrigerator with an ice maker.? High ceilings and gas fireplaces enhance the commodious units.? Custom woodwork and sound systems throughout each unit characterize attention to lavish details.? The complex's first-rate plumbing extends to steam showers in the master bathrooms.
Lyceum Gateway's neighbor, 55 Central Square Villas, appears to be part of the same complex, but the two buildings coexist as separate properties.? In 2004, two different owners purchased the side-by-side properties at the same time.? Merging the two properties into a single complex was never the plan, yet the two owners needed their buildings to follow the vision of Seaside's founder, Robert Davis.? To maintain Davis' dream for the community, the owners had to use the particular design of a particular designer ? Dan Solomon.? As an individual building, Lyceum Gateway serves to link and define the town's public spaces, and, although it is the largest site in the town square, Lyceum Gateway neither overwhelms nor diminishes other buildings. The building's exterior features a 20-foot arcade in keeping with the Seaside Design Code's mandates.? Located in the hub of Seaside, the Lyceum Gateway is only steps away from dining, shopping and the white beach of the Gulf.
If you're looking for other Seaside Florida condos for sale, check out our main page.
Floor Plans
Click below on any of the units to see the floor plan.
2 bedrooms
3 bedrooms
Penthouses